From the moment you walk into MercyCare Rockingham you sense it feels like home. A welcoming atmosphere, a friendly hello and our residents going about life, it's a place you can feel comfortable in.
MercyCare Rockingham Aged Care Home is designed to feel as close to your family home as we can. That's why we encourage you to keep to your normal routines, individual wishes are supported, rooms are personalised, and staff and residents mingle and socialise together.
A large activity room allows regular activities tailored to interests, plus there is a bonus of weekly pamper sessions. The light-filled, well-appointed library overlooking one of several courtyards is a space to enjoy a peaceful reading session or simply relax.
Spread across a single storey, MercyCare Rockingham has 54 large single rooms with individual temperature control and private ensuite.
As an important part of the local community, you can choose to visit the nearby Autumn Centre to socialise and take part in activities or connect with Tranby College students who have been visiting weekly for years.
Rockingham Aged Care Facilities and Services
We love when families partner with us in care and feel comfortable when visiting. Families are free to visit, maybe to celebrate a special occasion or simply to share a meal with their loved one, and with Rockingham foreshore and shopping nearby, there's plenty of outings to choose from.
Features and Highlights
54 rooms with private ensuite

24/7 nursing

Physiotherapy and occupational therapy

GP and specialist services

Lifestyle and therapy program with one-on-one or group activities

Regular social outings

Spiritual care

Palliative care

Dietitian-approved, seasonally-driven changing menus

Onsite Hairdresser

Library

Cleaning and onsite laundry services
Costs and Fees
Choosing a residential aged care home is a big decision, and it is important to understand the costs and fees associated with care. You can learn more about Cost and Fees here. Our local, friendly team are here to guide you through fees, charges, funding and any other questions you have at any time through your aged care journey.
Room type
Room price
Choose from three forms of payment options
Option 1
Maximum Refundable Accommodation Deposit (RAD)
Option 2
Maximum Daily Accommodation Payment (DAP)
Option 3
Combination payment of refundable deposit and daily payment.
For example
RAD
50%
DAP
50%
Deluxe room
Single room with ensuite
$390,000
$390,000
$43.16
$195,000
$21.58

Premier room
Single room with ensuite
Garden view

$420,000
$420,000
$46.48
$210,000
$23.24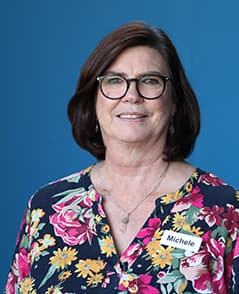 Service Manager
Michele Murdoch
I want people to see the person, not the age or diagnosis. That means treating each person as an individual, and this couldn't be more important than in Residential Aged Care.
I have a passion for working with seniors and advocating for them. I believe the place I can have the most impact to do this is in Residential Aged Care.
At MercyCare's Maddington Aged Care Home we are about creating a culture where we see the individual, treating each person with dignity and respect. We want to interact and engage with each resident from the time they get up to when they go to bed each night.
I've had a lifetime of working in the health industry but found my true passion over the past decade in aged care.
After working as a nurse at Royal Perth Hospital, my interest in emergency care saw me change career pathways to become a paramedic before moving into management roles. My move into aged care came through both community and residential aged care with my most recent position being one off the career bucket list – as a service manager for an aged care home in the remote community of Halls Creek.
I spent two years on the Council On The Ageing (COTA) board and can't wait to continue advocating for seniors in my Service Manager role.