Michael O'Dea (96 years old)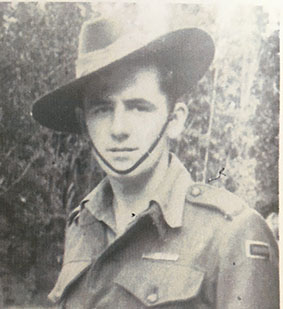 Mercy Village resident Michael O'Dea (pictured at top today, and above as a young man) was just 15 years old when the Second World War broke out.
By the time he was 21, Michael was dressed in army uniform fighting alongside his fellow countrymen in the 1945 Invasion of Borneo – Australia's final campaign of WWll.
Allied forces defeated the Japanese and Michael was among the fortunate ones to survive the campaign and return home to Australia.
He remembers his time in the army fondly, and in previous years, was a regular at the ANZAC Day march in the city.
"I used to take the kids," Michael said. "We had six children – so as you can imagine, they kept us pretty busy!"
Michael is 96 now and says while he's still a member of his local RSL club, he hasn't been to the march or attended a dawn service for many years, so the cancellation of this year's ANZAC Day services doesn't disappoint him personally.
Instead, he'll be spending ANZAC Day at home with his wife Carmel, where a glance at his medals will remind him of his country's gratitude for his service and the courage and bravery he showed all those years ago.
Lest we forget.
John Murphy (90 years old)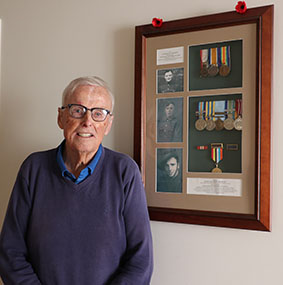 When Irishman John Murphy saw an advert in the local paper calling for 'people with military experience' to emigrate to Australia, he knew this was an opportunity he wanted to pursue. After all, his father had served alongside Australian troops at Gallipoli and had nothing but praise for 'these big Aussie guys'.
Five weeks later, John was setting sail from Southampton en route to Australia. It was 1950, and 20-year-old John had signed up to join 'K-Force' – a volunteer force of 1000 military personnel recruited specifically to support Australian troops in the Korean War.
The following year, John was wounded in battle when a Chinese grenade exploded close by causing permanent hearing damage and temporary vision impairment. When John returned to Australia, he was discharged from service to begin his civilian life, spending 47 years in the hotel business.
John is proud of his military background and has been actively involved in the RSL for more than 60 years. He's been President of the Cambridge RSL sub-branch for 15 years, joking that he "can't get rid of the job as there's nobody younger to take his place".
Despite his age, John would usually be up before dawn on ANZAC Day to give a speech at the West Leederville cenotaph as part of the Town of Cambridge's ANZAC Day dawn service. This year, he'll be spending ANZAC Day at his home in Mercy Village, Wembley, where both his and his father's war medals hang proudly on the wall.
Lest we forget the bravery, courage and sacrifice of all our servicemen and women, past and present.