Studying early childhood studies at high school was all the insight Tammy Dodd needed to know she had a passion for early childhood education. Starting as an early learning educator at Landsdale 15 years ago, Tammy has worked her way up to the position of Centre Manager – and although her role and responsibilities have changed over the years, the thrill she gets from seeing the children grow remains the same.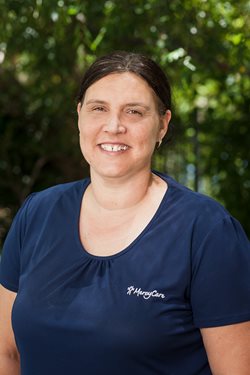 Today you'll find Tammy in the Centre Manager's office – a role she's thoroughly enjoying after more than a decade in a frontline educator role.
Tammy's passion for childcare evolved naturally when a unit she was studying at school gave her an insight into a career in early childhood education. That experience was all she needed; Tammy knew it would be a good fit for her and began studying for her childcare diploma after finishing high school.
She's since worked with all age groups at the centre, gaining lots of experience with the different developmental stages young children go through before being promoted to 2IC and later becoming Manager.
Although her day-to-day duties mean she's spending more time in the office these days, Tammy is a familiar face around the centre and all the children know and love her.
"I still enjoy spending time with the children and I'm often in and out of the rooms interacting with children and supporting educators," Tammy said.
"One of the best things about my job is seeing the children grow. As well as all the cuddles and smiles I get."
Aside from an obvious soft spot for the children, Tammy credits her team for making her job so enjoyable.
"We have a fantastic team here who I really enjoy working with," Tammy said.
"We're more like a family. We're very good at sharing ideas and helping each other out."
It's this team cohesiveness along with each staff member's friendly and welcoming nature that gives parents confidence about sending their children to the centre.
Adding to that sense of reassurance is the fact that many of the staff are considered 'long-term', something Tammy is both proud of – and grateful for – as it ensures consistency throughout the service and the children benefit from seeing the same friendly faces every day.