A research project exploring the benefits of an exercise physiologist-led program for senior Australians living in an aged care home has shown improvements in their physical, mental and social health upon completion of a 12-week exercise program.
Twenty-three residents from MercyCare Wembley Aged Care Home took part in the study.
Participating residents were split into two groups – 'control' and 'intervention', with participants in the intervention group committing to 2 x 45-minute exercise sessions a week while control participants continued with their normal activities for the 12-week period.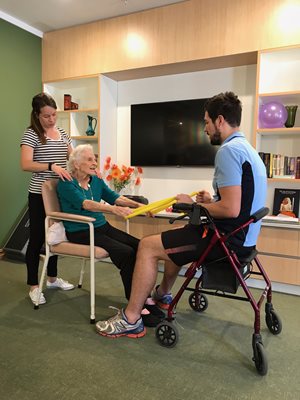 The exercise program was prescribed according to individual needs and included a warm up (aerobic activity and stretches), followed by resistance training, balance training, aerobic exercise (walking, seated cycle or dance), object manipulation (balloon, ball, quoits and fine motor activities), and a cool down (light aerobic exercise and stretching).
The combination of one-on-one sessions and group sessions improved residents' social and mental wellbeing by creating more opportunities to mix with other residents while allowing them to foster personal connections with the exercise physiologist and assisting ECU student. This led to a noticeable improvement in their emotional wellbeing, in addition to the physical improvements they showed.
At the end of the 12-week period, the groups were asked to repeat the same physical activities and tasks they were assessed on before the exercise program commenced, to identify whether their ability to complete the task had improved, stayed the same, or deteriorated.
The intervention group showed overall improvements in balance, strength, flexibility and mobility, with the 'timed up and go' activity (a popular fall risk assessment) showing the greatest difference between the two groups' abilities. Almost 86% of the intervention group showed improvement or no change in their performance of the task whilst all members of the control group showed a negative change in performance.
Image: MercyCare Wembley resident Joy Bingley participating in the ECU research study in 2018.