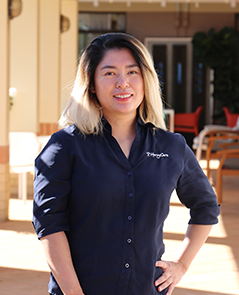 Food is more than simply nourishment, it can kick-start a day, remind you of a time or place, bring people together and provide a sense of comfort.
For people living with dementia, the way food is served can be important. Aged Care staff like Kimberly Ly, who works in Hospitality Services at our Wembley Residential Aged Care Home knows just how important food can be for the residents she serves on a daily basis. In order to reduce stress at mealtimes
Kimberly works to a very specific plan for the meals that she serves to those living in the home's dementia wing.
While serving residents in either communal dining areas or their bedrooms, she has to take into account people's physical ability to eat, their food preferences and the way their food is presented.
There is also thought put into She describes a good day is one filled with happy banter, lots of smiles and a few laughs with the residents. Kimberly also praised her colleagues, saying she works with a wonderful team.
The beautiful courtyards and pristine interiors of Wembley Aged Care Home are no accident.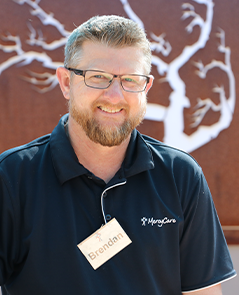 They are due to the hard work of the Wembley Aged Care team, including the essential Hospitality Services team. Like any house, aged care homes need a little TLC to keep them feeling 'homely'.
While the MercyCare maintenance team keeps structures safe and operational and carers tend to the everyday needs of residents, Brendan is the person who often meets some of the in-between needs of our residents and staff.
As part of the hospitality team, Brendan does so much of the behind-the-scenes work, from ensuring weekly orders are made, steam cleaning carpets or removing any pesky cobwebs that may appear.
Brendan's been at MercyCare Wembley for four years and he gains much satisfaction from keeping the home clean and tidy.
Known for as a hard worker and nothing being too much trouble, he is always on hand to help new residents settle by making their new room feel like home by moving their furniture in and even tuning resident's televisions when things go awry!