At MercyCare, we follow a child-led learning approach to early childhood education, allowing the children's own interests and curiosities to guide their learning experiences.
We believe this approach works best because children are more engaged learners when they're interested in the subject matter and they are more likely to be active participants if they're enjoying the activity at hand.
As educators, it's our job to recognise opportunities during play and find ways to provoke or expand on their learning experience.
Our role is to guide the children and to encourage their curiosity, to use their interests and personal experiences so they are engaged and receptive to the learning outcomes that arise.
In an early learning setting this can take many forms including listening to children talk about something they've enjoyed doing at home and creating ways for them to continue exploring the topic with their peers.
Here are some examples of child-led learning activities the children have enjoyed at our Early Learning Centres: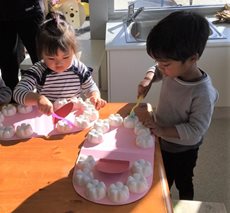 After a check-up at the dentist, one of the toddlers at our Bennett Springs centre showed an interest in role playing teeth hygiene.
To extend on this interest and her recent experience, educators made model mouths using the bottoms of recycled plastic bottles that they painted white to look like teeth.
The children enjoyed brushing the 'teeth' and learning all about oral hygiene in the process.
The children at our Banksia Grove centre had been talking about family members who live overseas.
To extend on this, the group began exploring their families' different cultures and all the different foods they like to eat.
During one of their weekly 'Mini Chef Monday' sessions, they decided to make Chorley Cakes, a popular British dish, similar to a scone.
The children enjoyed tasting food from their peers' country of heritage, which gave the children a deeper understanding of where their friends come from.
Next week on Story Corner we will share ideas to encourage child-led learning.