This year we mark 175 years since the Sisters of Mercy arrived from Dublin, Ireland and sailed up the Swan River with the vision of creating a better, more equal, caring and compassionate outlook for all Western Australians, no matter who they were.
MercyCare's rich history stems from the legacy of Catherine McAuley; the founder of the Sisters of Mercy and women such as Ursula Frayne who started the important work in Western Australia. Both are courageous young women who believed in making a difference and demonstrated innovation in their thinking, an approach that put their needs of the people who they served first and a strong foundation built on values that has influenced the values we currently demonstrate daily in our work.
To celebrate this milestone we have commissioned an artwork to show the journey of the Sisters of Mercy to the MercyCare as we know it today.
The artwork
Like a whisper of the past, faint images of the Sisters of Mercy and the vulnerable children they cared for merge into depictions of MercyCare today, it's staff and the community we support.
Artist Vanessa Liebenberg made drawings taken from historical photographs. Line drawings were exposed onto silk screen and softly screen printed onto wood. Bolder imprints bring you on a journey to present day MercyCare.
Extending from above, olive branches depict the ancient trees still growing at Wembley today. Watercolour pencils, acrylic and pyrography (burning of wood) have been used to create a frame of red wattlebird, kangaroo paw, grevillea, pea wildflowers and eucalyptus to express the beautiful Western Australian landscape.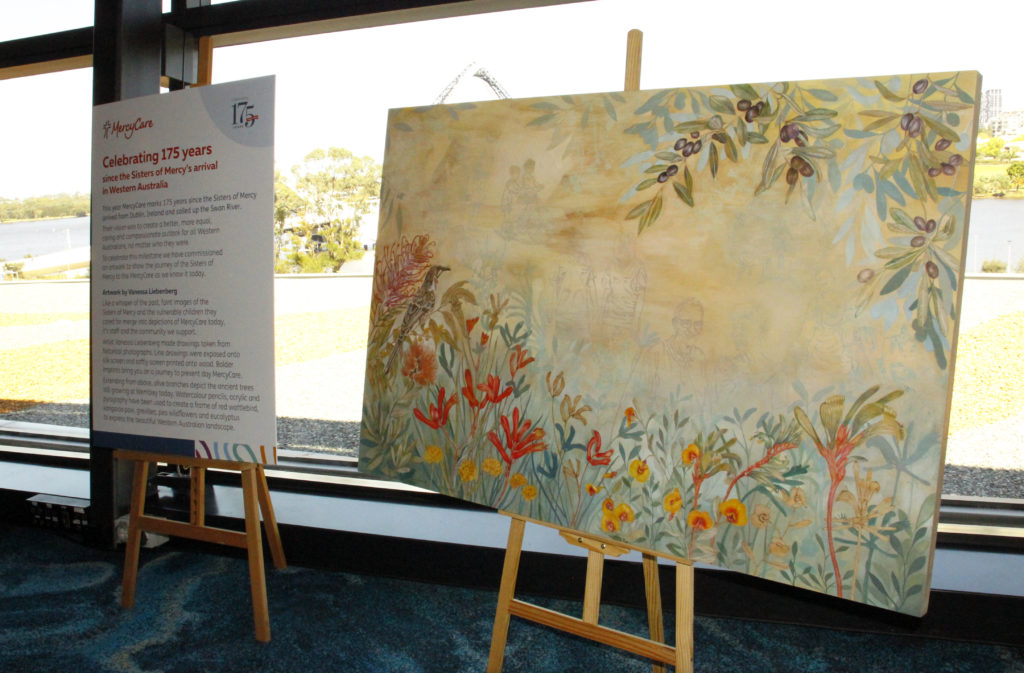 The artist

Vanessa Liebenberg was born in Cape Town and now lives in Perth. She fell in love with Australian fauna and flora and is drawn to nature, observing birds, flora and the way they adapt to their environment.
Her woven textile design background is a big influence on her process of creation. A mix of screen printing, drawing, painting and a pyrography technique achieves unexpected layered results in her work.
She is involved in Community art workshops, public art murals and book illustrations, including a children's book for the Duchess of York.
She has exhibited in many group exhibitions in Western Australia and her work is in private collections in Germany, South Africa and WA as well as collections in the City of Fremantle, Kwinana and Armadale.