At MercyCare we are incredibly proud of all our frontline workers who continue to provide care to those who need them during these challenging and uncertain times.
They are the support workers, the aged care workers and the early learning educators, who continue to show up to work every day to ensure those depending on them get the care they need.
Here is some insight into the roles these 'Community Heros' continue to play throughout the COVID-19 pandemic.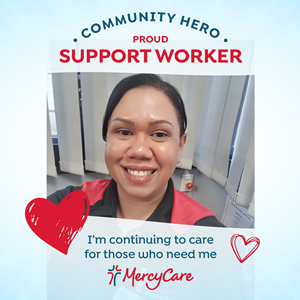 As a staff member at our Derby Aboriginal Short Stay Facility, Renee Sarah says it is vital guests know they are not alone, that there is help out there if they are having a hard time.
In times of social distancing, the Aboriginal Support Worker says this message is even more important.
Since the COVID-19 pandemic began, it has meant rather than have a conversation with a guest in an office with a closed door, Renee might have a yarn with them outside in the fresh air.
"All too often people come in feeling as if no one is willing to help them but it is up to us to reassure them there are still people who can help," she said.
Much of the Australian community is working from home but not Renee.
She is one of the many dedicated staff members who continue to provide meaningful services to their communities when it is most needed.
*****************************************************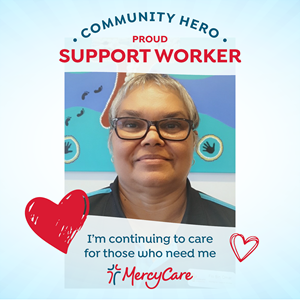 As an Aboriginal support worker at our Broome Aboriginal Short Stay Accommodation, Flo works to help people achieve small goals they may have while staying at the facility.
She's always been passionate about breaking the cycle of disadvantage for Aboriginal people and while the COVID-19 pandemic may mean there is more physical distance between her and guests, it's just one more challenge she's taken up in order to assist people.
Flo is still assisting clients with Centrelink forms, medical appointments and referrals to specialist services but now she is also ensuring the guests she meets are informed about COVID-19 in order to keep themselves and their families protected.
Aboriginal and Torres Strait Islander peoples and people who live in remote communities are at greater risk from COVID-19 so Florence is keen to ensure they receive culturally appropriate information.
"We're being extra careful and we're also explaining about COVID-19 to them and how serious it is," Flo Bin Omar said.
*****************************************************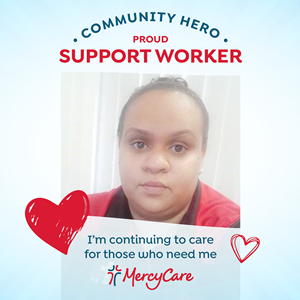 Despite the COVID-19 pandemic, life continues.
The guests at our Derby Aboriginal Short Stay Accommodation are a reminder of this.
Aboriginal Support Worker Marlowra Neliman said while last month her role involved assisting many people to return to their communities before lockdowns came into place, the facility is still welcoming guests.
"This week we've had four pregnant women staying with us who've come to town to have their babies," she said.
In her role at DASSA, Marlowra assists guests with any needs they may have. She helps them get to medical appointments, talks through Centrelink payments or requirements or refers them to services to address matters they may be dealing with such as financial struggles, homelessness, mental health or drug and alcohol issues.
"Even though we are in the middle of a pandemic and I've had to juggle things at home with my daughter, I get up every day and come to work because what we do is an essential service, it's really important to me, I love doing what I'm doing," Marlowra said.
*****************************************************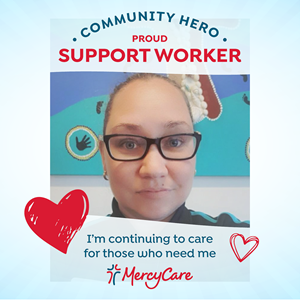 Tamarii McHugh is one of the wonderful staff members at Broome Aboriginal Short Stay Accommodation.
A variety of factors are behind why people come to stay at the facility. Derby woman and Aboriginal Support Worker Tamarii is able to point guests in the right direction so they can get any additional support they may need.
Social distancing may have put some extra space between her and the guests, but it hasn't stopped her determination to find ways to help people.
While the communities where many of BASSA's regular guests come from are currently closed, the facility continues to cater for the Kimberley community, including people who have exemptions to travel for medical reasons and locals in need of a place to stay.