At MercyCare we are incredibly proud of all our frontline workers who continue to provide care to those who need them during these challenging and uncertain times.
They are the support workers, the aged care workers and the early learning educators, who continue to show up to work every day to ensure those depending on them get the care they need.
Here is some insight into the roles these 'Community Heroes' continue to play throughout the COVID-19 pandemic.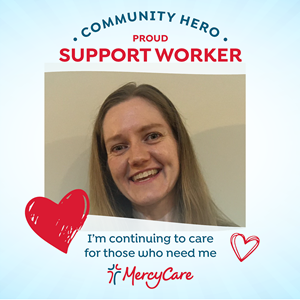 "I like knowing what I do directly impacts people for the better," says MercyCare Disability Services Support Worker Justine Wesley.
As a Support Worker, Justine enables her participants to build and maintain their independence and access their community as fully as they wish. Supports are personalised to the person and can include, personal care, in home support, transport, social support and mentoring.
"I know that when I leave the participant now has clean cups and dishes to use, they're now clean and dressed for their day, they now have food to eat and they've had someone to talk to about their week."
"It's important to me for the participant to feel like I have contributed in making their lives easier and better."
When the pandemic first started Justine thought her role would change significantly, but instead life has continued as she has been able to be there for her the people she supports.
"I felt a little conflicted initially given the stay-at-home message in the community but knowing I was considered an 'essential worker' set my mind at ease.
"I had a few participants who were really scared initially but now people aren't as fearful, just over the quarantine! I think just being able to talk about their fears has helped."
*****************************************************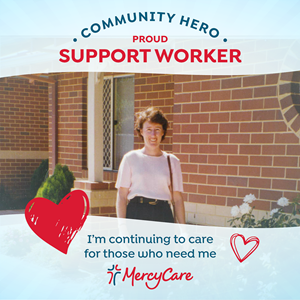 For MercyCare Disability Support Worker Susan Gault, assisting her participants to live their best life is one of the things she loves most about her job.
"I do feel proud of the important role I play and the support, compassion and kindness I can provide in this changing world. Hopefully it brings some joy… and a great deal of hope," Susan said.
Susan provides support to a diverse range of people living with disability. Her goal is to provide tailored support to meet the needs of each person she works with and enable them to become as independent as possible. Susan recognises the important role of support workers, like herself, in the community, and is grateful to have the opportunity to make a difference in people's lives.
"Sometimes we're the only people our participants see in a day. We provide friendship, company, as well as physical and mental support."
After some initial concerns about the risk to her live-in elderly Mother's health if she continued working amid the pandemic, Susan feels comfortable in her decision to keep providing her participants with the support they need.
"In these times of social isolation, the support we provide is especially important," Susan said.
Instead of their usual trips out into the community, Susan has been spending more time talking to participants in the safety of their own homes.
Being there to listen has enabled Susan and her participants to deepen their connection.