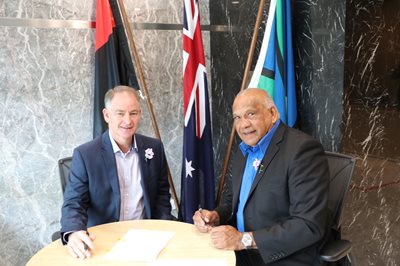 A new Memorandum of Understanding (MOU) between MercyCare and Yokai, formerly the WA Stolen Generations Aboriginal Corporation (WASGAC), has been signed as the two organisations seek to strengthen their five-year relationship by broadening the scope of their partnership.
Yokai is a Noongar call to action meaning 'enough is enough'. It exists to address the needs of individuals and families adversely affected by policies and practices of separating Aboriginal and Torres Strait Islander peoples from their family, community, country and culture.
"At MercyCare we are committed to a fairer Australia based on respect and justice for all," MercyCare Chief Executive Officer Anthony Smith said.
"Six years on from the start of our reconciliation journey, I'm proud of the progress we have made and the commitment shown across our organisation to the process of reconciliation.
"This new MOU with Yokai signifies a new step in our journey – one that will challenge us to take bolder strides in our quest for a reconciled Australia. We look forward to continuing to grow our relationship with Yokai, and appreciate this exciting opportunity," Mr Smith said.
Until now, MercyCare's involvement with Yokai has been purely project-based. Under the new MOU, the scope has been opened-up to allow the two entities to explore more initiatives with greater sharing of business acumen and resources.
"We're pleased that MercyCare has taken up the challenge and we're looking forward to working with the team to achieve some good outcomes for Stolen Generations and their families," Yokai Managing Director Jim Morrison said.
"Such alliances are essential for achieving meaningful change, and I congratulate MercyCare for its commitment to this new partnership," Mr Morrison said.