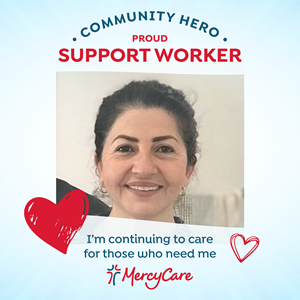 MercyCare Multicultural Services Settlement Caseworker Afsoun Mohammadkhani has supported hundreds of people through the journey of setting up life in Australia after arriving from other parts of the world.
For many, finding work in a new country can be a daunting experience, but Afsoun works to make the process for her clients a little smoother.
On the surface, her role is about assisting migrants, refugees and immigrants with education and employment, but her role encompasses a lot more than enrolment forms and job adverts.
In order to understand what assistance may be required and how best she can assist people to reach their potential in their new lives in Australia, Afsoun works with people to get an understanding of who they are, what their situation is, where they have come from and what their aspirations are.
"My work provides the opportunity to assist people to enrich lives and accomplish their dreams, to look towards doing something they might have always wanted to do but not yet been able to achieve," Afsoun said.
Doing this while working with different people who come from different cultural backgrounds and may not speak English as their primary language can be challenging but after almost 14 years as a MercyCare case worker, Afsoun has the patience, understanding and communication skills for almost any situation.
"The most important part of my job is to build a relationship based on trust and mutual respect," she said.
Afsoun, who came to Australia from Iran 18 years ago, can relate to many of the people she works with, her own experience of making Australia her home helps her understand the many difficulties newcomers have.
"I say that it's like when you learn to drive, if you start driving without an instructor you might drive with so many bad habits, make many mistakes and it would be hard to get them right again. If you have an instructor from the beginning to teach you the accurate way of driving, it would be very rare to make a mistake. Settling in to a new country is the same, if you have someone to guide and assist you through some of the challenges, you wouldn't have to make as many mistakes on your way to where you are going," she said.
The COVID-19 pandemic has had an impact on the level of face to face meetings she's been able to have with her clients which has created an additional challenging factor to her work.
"I've been on the phone with everyone to make sure they are doing okay, while a lot of things are on hold, there are still ways to do things, I have helped people access classes or services online and have been checking that they have support in the areas they need it," Afsoun said.
She said while employment opportunities may be harder to come by at the moment, she is still working to identify labour market opportunities for the people she works with.
While the current situation might mean Afsoun is working in different ways, she is still focused on helping people achieve their goals.