Multiple teams from across MercyCare's Mirrabooka-based services came together recently to enjoy a buffet style lunch in celebration of Reconciliation Week.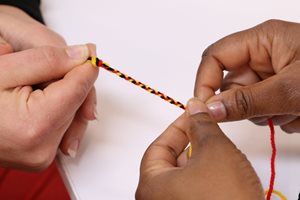 Several popular Aboriginal dishes were on the menu for the event, including homemade kangaroo stew, kangaroo and kutjera (Australian desert raisin) sausage rolls, and traditional damper bread.
Before tucking in, staff were encouraged to participate in a symbolic activity that involved braiding together pieces of red, yellow and black wool – in keeping with this year's Reconciliation Week theme: In This Together. The completed braid could then be tied and worn as a bracelet for the remainder of Reconciliation Week, to demonstrate the wearer's commitment to a more reconciled Australia.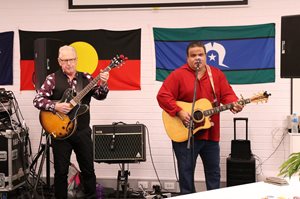 Former MercyCare Aboriginal Consultant and local musician, Phil Bartlett, entertained staff with the help of his high school music teacher, Kevin Ferguson; who he had reached out to specifically for the occasion to add to the symbolism of his performance. Phil explained to staff the impact his music teacher had on him during his teenage years, which led him to discover his passion for music and his extraordinary song writing talent.
There was plenty of time for reflection among all the fun, with posters on display detailing why Reconciliation is important to the people who work at our Mirrabooka office. These employees are involved with MercyCare's family and youth support and multicultural support services.