From the moment you walk into MercyCare Kelmscott you sense it feels like home. With just 45 rooms residents can freely personalise, a choice of communal spaces and courtyards, and the experienced long-term staff, MercyCare Kelmscott is designed to feel as close to your family home as we can.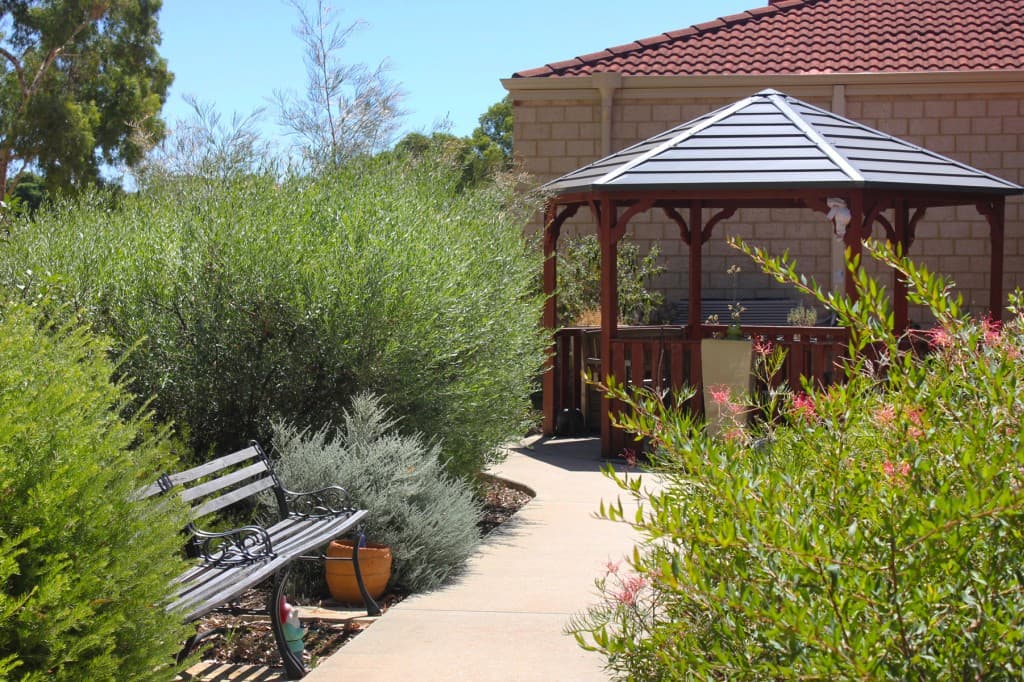 Spread across a single storey, MercyCare Kelmscott has large single rooms with individual temperature control and private ensuite, many of which benefit from views of the courtyard gardens or the surrounding green open spaces. You and your family are free to access the courtyards or take a wander along the outdoor paths with views of the surrounding towering gum trees.
Families are a big part of life at MercyCare Kelmscott. Families are free to book special spaces to gather, like our private dining alcove for special occasions or to simply share a meal.
The generous newly renovated dining space means plenty of room for mealtimes or daily group activities. Residents also enjoy regular outings within the community, such as the Kelmscott Library or a scenic drive to Araluen Botanic Park.
Kelmscott Aged Care Facilities and Staff
Personalised care is paramount. Qualified nurses are on duty and you can access massage clinics, therapy activities and other allied health professional services.
Features and Highlights
45 rooms with private ensuite

24/7 nursing care

Physiotherapy and occupational therapy

GP and specialist services

Massage clinics

Lifestyle and Therapy program with one-on-one or group activities

Regular social outings

Spiritual care

Palliative care

Dietitian-approved, seasonally-driven changing menus

Onsite hairdresser

Library

Cleaning and onsite laundry services
Costs and Fees
Choosing a residential aged care home is a big decision, and it is important to understand the costs and fees associated with care. You can learn more about Cost and Fees here . Our local, friendly team are here to guide you through fees, charges, funding and any other questions you have at any time through your aged care journey.
Room type
Room price
Choose from three forms of payment options
Option 1
Maximum Refundable Accommodation Deposit (RAD)
Option 2
Maximum Daily Accommodation Payment (DAP)
Option 3
Combination payment of refundable deposit and daily payment.
For example
RAD
50%
DAP
50%
Deluxe room
Single room with ensuite
$400,000
$400,000
$44.27
$200,000

$22.13

Premier room
Single room with ensuite
$440,000
$440,000
$48.70
$220,000
$24.35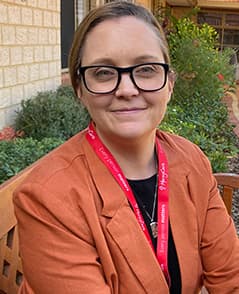 Service Manager
Naomi Scott
I love nothing more than creating a homely welcoming environment for residents, their family and staff.
My two decades of experience in the health-care industry has been across a number of diverse roles.
Since volunteering in aged care as a teenager, I have served in the Royal Airforce, worked in medical sales and education, taught critical care ventilation and travelled the world.
It was when I moved into continence management and education in aged care, that I really discovered my passion for aged care.
This passion took me back into Residential Aged Care where I worked across resident liaison, community engagement and facility manager roles. 
I live by the belief that people may not remember what was said but will always recall how they were made to feel, and this mindset is at the forefront of everything I do.
I am also a WA Leading Age Services Australia Next Gen Ambassador for aged care.