MercyCare Ballajura Early Learning Centre
Nature is a big part of each day for children at Ballajura Early Learning Centre, not only with its spacious grounds, beautiful old shade trees and nature-based play areas, but through its commitment to environmental sustainability.
We pride ourselves on providing a safe and secure setting for children, where families feel valued for their uniqueness and are respected and involved.
Our experienced, long-term staff are a close-knit team and well-known in the local community, thanks to having cared for so many local families. Our highly qualified and experienced educational team provide a flexible, responsive and engaging learning environment tailored to each child's individual needs.
Children are encouraged to get hands-on with nature, whether it's through caring for the Centre's numerous animals including chickens, rabbits and fish; tending the thriving vegetable garden; or playing and exploring in the vast natural play spaces. MercyCare Child Care Centre Ballajura has nature-based play areas that encourage children to be creative, independent, take risks and build resilience. Our hands-on activities are a great way to teach children how to care for living things, how plants and animals grow and develop, and how to respect and care for our environment.
Cultural diversity is embraced in all age groups. Yarning circles and a daily Acknowledgement of Country are just a couple of ways children learn and celebrate Indigenous culture.
Our newly renovated rooms are bright and colourful with modern amenities and add to the homely feeling that our educators work hard to preserve.
Features and Highlights
Our newly renovated rooms are bright and colourful with modern amenities and add to the homely feeling that our educators work hard to preserve.
Places for children from birth to 6 years (babies, toddlers and kindergarten)

Kindy program run by a qualified Early Childhood Teacher

Real-time communication with families

Daily, nutritious menu, featuring fresh produce grown at our centre

We work with families to meet special dietary requirements, routines, care requirements and additional needs.

MercyCare MiniChef

Eco Warriors program

Incursions and special events

Flexible child care (penalty-free casual and public holiday replacements days; money-saving 10-hour sessions, half days)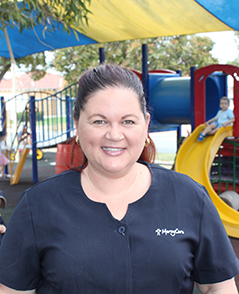 Manager
Amanda
It's such a joy to be part of this centre. I grew up in Ballajura, still live in the area, and have been the centre manager here since I came on board in 2010.
I believe the bonds children build in the early years, with both other children and their educators, help to shape who they become as a person. It is so rewarding working together with my team to create an inviting and welcoming space for the children to grow and learn.
I have a Diploma of Children's Services and Certificate IV in Training and Assessment and have worked in the early education industry since 2000.
Both my girls have attended MercyCare Ballajura and I can't recommend them highly enough. Proactive and attentive team, fantastic facilities, great communication, activities, food etc. They gave both my daughters a real head-start into Kindy. A lot of the team that was there when we started attending nearly seven years ago are still there, which says a lot for how great the place is
Rachel Edmondson
MercyCare Ballajura Early Learning Centre parent
The staff are always wonderful and attentive and they helped my kids to express themselves as individuals. I know my children feel safe, secure and happy in a nurturing environment. The staff always make me feel that my kids are also very special to them. I couldn't recommend them enough. They have made me feel comfortable and confident leaving my children there as I know they always get the individual attention they need
Shelley Bosso
MercyCare Ballajura Early Learning Centre parent
My daughter goes here and all the staff made the process of her settling in amazing and put my mind at ease. Love all the updates throughout the day. She loves going here and to see her social, educational and interaction skills improve has been a highlight.
Janette Moloney
MercyCare Ballajura Early Learning Centre parent
Thank you, thank you, thank you! Thank you to all the girls in the baby room, you have made the daunting feeling of leaving your child such a pleasant experience.
The loving updates throughout the day with her big smile gives me so much happiness to know I can get all my uni work done and not have the Mum guilt because I know she's in the best hands. I love the bond she has created with each-and-every one of you.
Sade
MercyCare Ballajura Early Learning Centre parent
I'd just like to say a big thank you to the centre. You know when a child is happy at his daycare when he asks on holidays if he can go back to daycare soon!
Preston also tells me he would like to invite all his teachers to his birthday party, you ladies are like family to him. Thank you for all your hard work, I know it's not easy some days, but you all put in so much effort and keep smiling no matter what.
Patricia Wood
MercyCare Ballajura Early Learning Centre parent
The baby room educators are always so welcoming, making the effort to put children at ease as soon as they arrive. They take on any update I provide regarding my child and incorporate it straight away into the work they do – which makes things much easier for his transition between daycare and home. Nothing is ever too much, they are all so willing to help.
Sandra Wybrant
MercyCare Ballajura Early Learning Centre parent