MercyCare Banksia Grove Early Learning Centre
An enormous nature play area boasting 700 square metres offers children at our Banksia Grove Early Learning Centre the space and freedom to run, explore and challenge themselves through play.
We know that children learn best through play, which is why our nature-based play area contains activities to challenge them. Features like our rock-climbing wall, forts, log ladders, a rope climbing frame, balance beams and water play spaces encourage little ones to take risks, build resilience and play independently.
The modern, custom-built centre draws on cutting-edge design principals so each room's floor-to-ceiling glass windows and doors overlook the outdoor natural centrepiece.
At MercyCare Banksia Grove Early Learning Centre, we pride ourselves on providing a safe and secure setting for children, where families feel valued for their uniqueness and are respected and involved. Our highly qualified and experienced educational team provide a flexible, responsive and engaging learning environment tailored to each child's individual needs.
In addition to our nutritious daily menu, our MercyCare MiniChef program gives children the opportunity to create and learn different recipes to share with their friends or bring home to their family. Featuring culturally rich dishes and Indigenous recipes, it is a fantastic way for children to learn maths, science, problem solving, healthy eating and sharing.
Features and Highlights
Environmental sustainability is a key focus at our Banksia Grove child care centre, where we've developed activities that help children learn about the importance of recycling, waste reduction and caring for our environment.
Places for children from birth to 6 years (babies, toddlers and kindergarten)

Kindy program run by a qualified Early Childhood Teacher

Real-time communication with families

Daily, nutritious menu, featuring fresh produce grown at our centre

We work with families to meet special dietary requirements, routines, care requirements and additional needs.

MercyCare MiniChef

Eco Warriors program

Incursions and special events

Flexible child care (penalty-free casual and public holiday replacements days; money-saving 10-hour sessions, half days)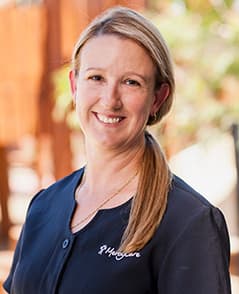 Manager
Kelly
As a dedicated educator and mother of four, I've experienced first-hand both sides of the fence when it comes to navigating child care. The experience has made me all-the-more passionate about nurturing a sense of community at Banksia Grove.
I am inspired by the ecological systems theory, which places emphasis on the people and environment around children, helping to shape their development. Beautiful play spaces, like ours at Banksia Grove, bring a sense of calm and wonderful opportunities for exploration for the children. 
Over the years I have loved building the special relationships we share with the families and children. I feel it is important to embrace each family's uniqueness and learn from the wonderful diversity amongst families.
Before taking the manager role at Banksia Grove I was at MercyCare's Landsdale Centre for 16 years after starting in childhood education in 2003.
I have a Diploma in Children's Services and am close to completing a Bachelor of Education degree.
What our parents say about us
The educators are truly a part of our family now. My son has such a great day, playing, learning and being creative. I get updates on naps, food and nappies as well as a handover with the educators when I pick him up, of which we have plenty of time for because he doesn't want to leave. I have never felt uncomfortable leaving him and have always been confident that he is in a loving and caring environment.
Teagan Knight
MercyCare Banksia Grove Early Learning Centre parent


Google Verified Review
My son has been attending since MercyCare Banksia Grove since it first opened in 2019. He generally doesn't like to be away from me but is excited to attend his "school days". This is reassuring to see he's happy to leave me and a reflection on the staff and centre making him feel happy, comfortable and safe.
Rebecca Dickson
MercyCare Banksia Grove Early Learning Centre parent


Google Verified Review
My girl has been attending Mercy Care since they opened in 2019. Every single educator in the centre went and still does go above and beyond to make her feel special and welcome every morning and now she loves to go. I would 100% recommend MercyCare Banksia Grove to anyone. 
Elle Bee
MercyCare Banksia Grove Early Learning Centre


Google Verified Review