MercyCare Bassendean Early Learning Centre
At Bassendean Early Learning Centre, our educators and staff make each day a fun-filled adventure for children through magical experiences, active play and engaging activities. Our experienced educators are a familiar face, not just for children but for parents also.
A consistent team of educators ensures children feel safe and comfortable in their home away from home, especially children who are new to child care. Our highly qualified and experienced educational team provide a flexible, responsive and engaging learning environment tailored to each child's individual needs.
We pride ourselves on providing a safe and secure setting for children, where families feel valued for their uniqueness and are respected and involved. MercyCare Bassendean Early Learning is a fantastic reflection of our multicultural community, with diversity being celebrated across the centre, reflected in the learning environments and the engaging activities we offer the children.
Children can enjoy the spacious, newly constructed outdoor play area that provides ample space for children to run, explore and engage in outdoor learning activities.
Features and Highlights
In our Bassendean child care centre, we value the surrounding environment and we incorporate sustainable practices, such as saving food scraps to go into our worm farm, caring for our vegetable patch and using recycled materials for art and craft projects.
Places for children from birth to 6 years (babies, toddlers and kindergarten)

Kindy program run by a qualified Early Childhood Teacher

Real-time communication with families

Daily, nutritious menu, featuring fresh produce grown at our centre

We work with families to meet special dietary requirements, routines, care requirements and additional needs.

MercyCare MiniChef

Eco Warriors program

Incursions and special events

Flexible child care (penalty-free casual and public holiday replacements days; money-saving 10-hour sessions, half days)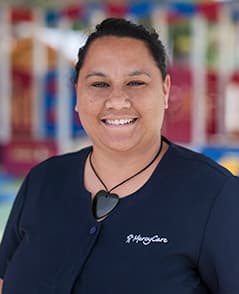 Manager
Kym
As a mother myself, I fully recognise the importance of early childhood development.
It was my time spent at home with my son that made me realise my passion for early learning.
I found myself structuring our days at home like his day at daycare; feeling a great sense of pride as I watched him learn through our play activities and thinking to myself… this could be the job for me!
I completed my Diploma in Children's Services and began working in the industry in 2006 before progressing to a managerial role in 2010 and joining MercyCare's Kelmscott Early Learning Centre in 2018.
Supporting, guiding and inspiring children to be excited about the world around them is what motivates me as an early childhood educator, and every day I'm surrounded by a team of dedicated educators who share this passion. Their can-do attitude and think-outside-the-box approach to creating exciting new experiences and opportunities for our children makes everyday fun and interesting. I'm just so proud of our fantastic centre and the quality of care we provide.
What our parents say about us
I have had a wonderful experience with both my children at MercyCare. The staff are so patient, kind and loving with the children and they create wonderful learning experiences for them. They are always willing to help with any queries and are very accommodating. The rooms are kept lovely and tidy and the meals for the children are delicious and varied.
Natalie Airs
MercyCare Bassendean Early Learning Centre parent


Google Verified Review
After viewing about a dozen centres, we couldn't go past Bassendean MercyCare, even though it's a little out of the way for us. The educators genuinely care for our son. I love seeing pictures of what they get up to during the day on the app, keeping up-to-date with his naps and diet. They also take the time to talk to my partner and I and fill us in on our son's day at pick-up.
Lisa Bruyninckx
MercyCare Bassendean Early Learning Centre parent


Google Verified Review
Absolutely fantastic day care centre!!! They have gone above and beyond with my grandson, making him feel safe, secure and loved. Activities are always educational and exciting, food is healthy and good variety. All the staff are beautiful caring people, always greeted with a smile and happy to help with any concerns you may have about your children. Always pick my little man up with a big smile on his face.
Melissa Karasinski
MercyCare Bassendean Early Learning Centre parent


Google Verified Review
I am so, so pleased I chose MercyCare for Joshie. It's so nerve-racking and upsetting leave your baby for the first time but I'm extremely grateful that he has been in your care- I can't believe how much he has learnt and is developing – it's amazing! I won't be able to thank you and your team enough for taking such good care of my Joshua. 
Kate
MercyCare Bassendean Early Learning Centre parent


Google Verified Review
My husband and I just want to say that we are so happy with everything that MercyCare has done for Judd – we appreciate all your hard work.
Juddy loves going to daycare, enjoys everything you teach him and loves all the people there. Thank you all for being amazing.
Amanda
MercyCare Bassendean Early Learning Centre parent


Google Verified Review
Thanks to you all for everything you have done for both girls this year. Ellie is absolutely 'kindy ready' and has made some good friends at MercyCare.
Pamela
MercyCare Bassendean Early Learning Centre parent


Google Verified Review