Bennett Springs Early Learning Centre
Our Bennett Springs Early Learning Centre embraces community and culture. Offering multiple languages and cultural activities throughout the year, children are encouraged to celebrate diversity with their friends, at home and in the community
Our modern, purpose-built child care centre in Bennett Springs provides the perfect base for children to grow, develop and learn. Natural play spaces with grassed areas and trees make the grounds feel more like a park. These surroundings give children the chance to explore nature and play independently.
We pride ourselves on a warm and welcoming environment, especially for multicultural families. Our educators speak multiple languages, which gives many children the ability to communicate in their own language. This helps children settle in and feel secure. We are extremely passionate about teaching the children where food comes from and have a strong focus on the environment, incorporating sustainable practices into our everyday activities and the running of the centre, from our bush tucker garden to recycling materials for arts and crafts activities.
Features and Highlights
Also featured at the MercyCare Bennett Springs Early Learning Centre is a designated light-filled art space, with shelves stocked with a variety of art supplies, encourages children to embrace their creativity. Educators help children to select their own materials and complete individual art projects, many of which are proudly displayed around the centre.
Places for children from birth to 6 years (babies, toddlers and kindergarten)

Kindy program run by a qualified Early Childhood Teacher

Real-time communication with families

Daily, nutritious menu, featuring fresh produce grown at our centre

We work with families to meet special dietary requirements

MercyCare MiniChef

Eco Warriors program

Incursions and special events

Flexible child care (penalty-free casual and public holiday replacements days; money-saving 10-hour sessions, half days)
What our parents say about us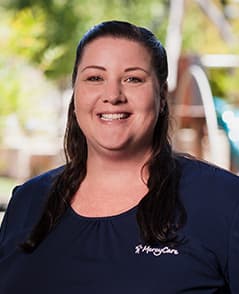 Manager
Jacenta
I believe encouraging diversity and creativity in an environment based on flexibility, equality and good communication helps children to learn and thrive.
I hold a Diploma of Children's Services and have worked in the early learning sector since 1998. 
Researching and creating new learning opportunities for the children within the curriculum is something I really enjoy and it's great to be able to share these ideas and experiences with my team of educators. 
At Bennett Springs the multicultural team of educators fosters strong connections with children and families.
I love the relationships that are formed with the children and families and learning about the cultures within our community and how we can share and learn more.
When not at the centre I love to bike ride, spend time with family and cheer on my three children in their sporting activities.
MercyCare Bennett Springs has been absolute game changer for my family! The amazingstaff at Bennett Springs are the most patient, friendly, kind, warm, respectful, professional, engaging people I've ever met. The love, security, education and energy they provide the classrooms and each child is unbelievable, they not only engage with my son but they quite often tailor activities to his needs and interests. I would highly recommend this early learning centre to everyone who is looking for a place for their child to not only learn, but to blossom and be cared for on not only a professional and educational level but a maternal level too.
Chisty Boxsell
MercyCare Bennett Springs Early Learning Centre parent 


Google Verified Review
Our two children have been going there for 2.5 years now and we could not be happier. The staff make our children feel very special and they have a real passion for the job. They have great communication and provide a good balance between structured activities and free play.
Sean G
MercyCare Bennett Springs Early Learning Centre parent 


Google Verified Review
Our daughter attends this beautiful centre and I couldn't recommend it high enough. It's so lovely to walk into the centre and have all of the educators say hello to your child, know her name and talk to her with genuine interest. It's hard to leave your child with people other than family but I have never felt more comfortable doing so.
Katie Drinkell
MercyCare Bennett Springs Early Learning Centre parent


Google Verified Review
We absolutely love this place. All staff are wonderful and so helpful. Our boys loved going there and made great friends there and they loved the staff. We have made such great friends from going there with staff and other parents. Could not recommend this centre enough.
Josephine Berryman
MercyCare Bennett Springs Early Learning Centre parent 


Google Verified Review
My son goes to this centre. He is an outdoors boy and the outdoor play areas at the centre are superb. The ladies have done a great job at welcoming him to the centre, he receives high quality meals, so I know he is fed well when he is there, and it is great to receive photo updates of his learning when I'm away. Very happy with this service.
Daryl Greenway
MercyCare Bennett Springs Early Learning Centre parent