MercyCare Ellenbrook Early Learning Centre
As an integral part of the community, Ellenbrook Early Learning Centre prides itself on the close relationships between staff and families, working together to ensure each child receives the individual care and learning opportunities to thrive.
The seven architecturally designed rooms at our Ellenbrook child care centre provide bright and fun learning spaces for our little ones to learn. Floor-to-ceiling windows fill our rooms with natural light, flowing out to our large, nature-based playground that encourages children to use their imaginations and to play independently.
A consistent team of educators ensures children feel safe and comfortable in their home away from home, especially children who are new to child care and early learning centres. Our highly qualified and experienced educational team provide a flexible, responsive and engaging learning environment tailored to each child's individual needs.
Learning activities are very much led by the children, their interests and a reflection of the community they belong to. We learn about and celebrate cultural events, building lessons on the individual interests of the children. Children learn about the environment through our environmental sustainability program.
Features and Highlights
We understand that a familiar face is important for children and families alike. Many of our staff have been with us since the MercyCare Ellenbrook Early Learning first opened, providing stability and a sense of belonging for the children at our centre.
Places for children from birth to 6 years (babies, toddlers and kindergarten)

Kindy program run by a qualified Early Childhood Teacher

Real-time communication with families

Daily, nutritious menu, featuring fresh produce grown at our centre

We work with families to meet special dietary requirements, routines, care requirements and additional needs.

MercyCare MiniChef

Eco Warriors program

Incursions and special events

Flexible child care (penalty-free casual and public holiday replacements days; money-saving 10-hour sessions, half days)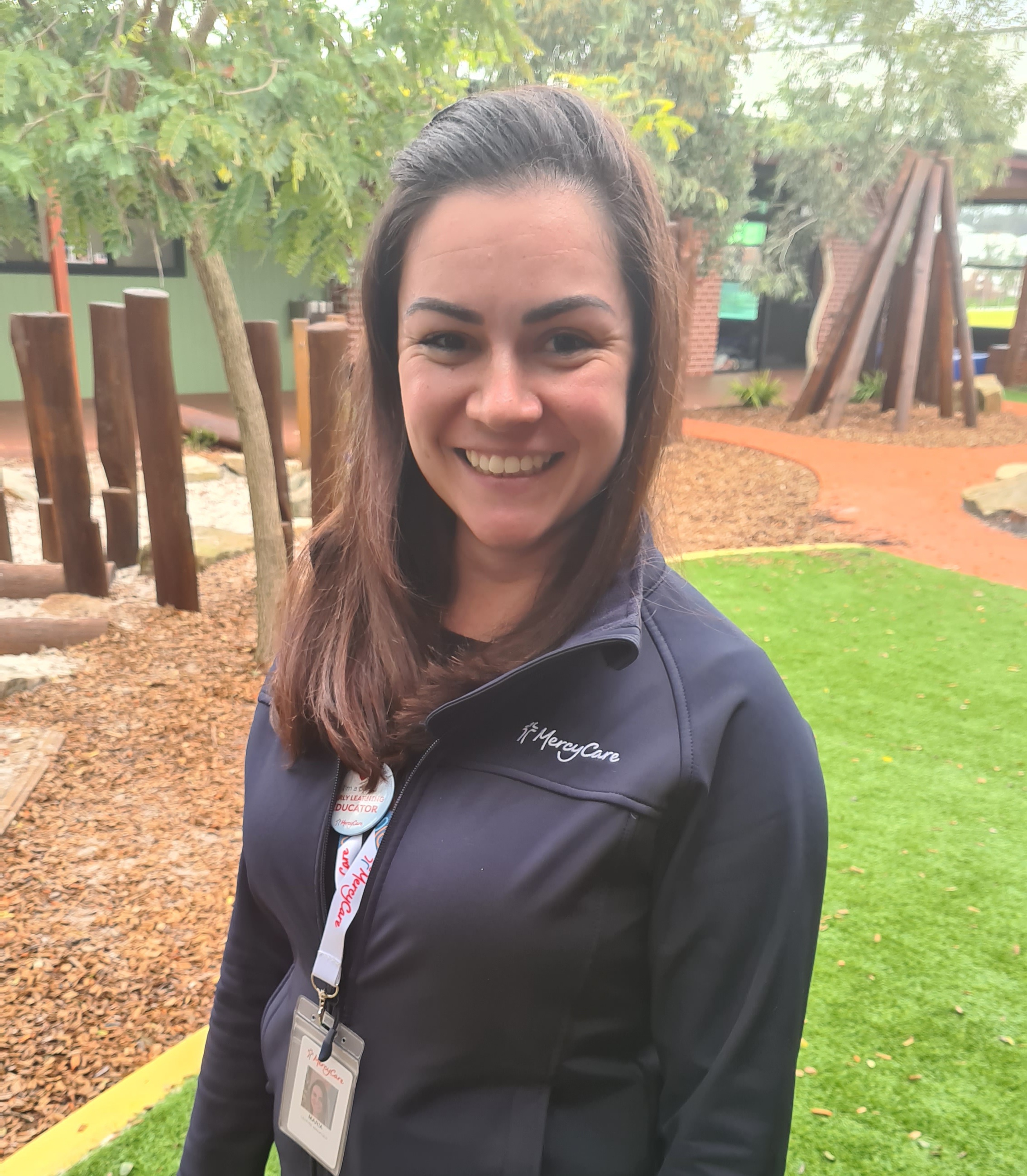 Manager
Maria
Working in early childhood is a true passion for me – it was 20 years ago that I realised it is my life's calling!
After completing my Bachelors in Early Childhood Education in Venezuela, I moved to Australia where I completed my Masters Degree in Education.
Australia is not just the country where I moved to, Australia now is my home. It's the place where I have grown as a person and as a professional.
Being able to interact with children every day and watch their growth and development are among the things I love most about working in education and care.
I truly value the relationships with families and always strive to provide them with peace of mind that their children are being loved and cared for.
I never expected anything close to the level of love and care these ladies give to my twin boys. I can't thank them enough, my boys are genuinely excited to go to daycare every day and are completely smitten with their educators. 5 stars isn't enough!
Damian Walker
MercyCare Ellenbrook Early Learning Centre parent 


Google Verified Review
All the staff are unbelievably welcoming and loving to my son! For my two-year-old son to walk in the centre and run away to play and yell from the other side of the playground "BYE MUM!" shows me that even when I'm not there he is the happiest little vegemite. His learnt to settle down for naps, how to listen and take instructions as well as being able to concentrate on tasks and speak clearly. All these ladies are wonderful!
Rachel Crosby
MercyCare Ellenbrook Early Learning Centre parent


Google Verified Review
The team are wonderful with the care they provide to each and every child. MercyCare Ellenbrook is a fresh and new centre with nature play equipment which helps the children explore and create their own adventures. My son… has developed so much under their care.
Rochelle Haley
MercyCare Ellenbrook Early Learning Centre parent 


Google Verified Review
Thank you, thank you, thank you! Thank you to all the girls in the baby room, you have made the daunting feeling of leaving your child such a pleasant experience.
The loving updates throughout the day with her big smile gives me so much happiness to know I can get all my uni work done and not have the Mum guilt because I know she's in the best hands. I love the bond she has created with each-and-every one of you.
Sade
MercyCare Ballajura Early Learning Centre parent


Google Verified Review
I'd just like to say a big thank you to the centre. You know when a child is happy at his daycare when he asks on holidays if he can go back to daycare soon!
Preston also tells me he would like to invite all his teachers to his birthday party, you ladies are like family to him. Thank you for all your hard work, I know it's not easy some days, but you all put in so much effort and keep smiling no matter what.
Patricia Wood
MercyCare Ballajura Early Learning Centre parent


Google Verified Review
The baby room educators are always so welcoming, making the effort to put children at ease as soon as they arrive. They take on any update I provide regarding my child and incorporate it straight away into the work they do – which makes things much easier for his transition between daycare and home. Nothing is ever too much, they are all so willing to help.
Sandra Wybrant
MercyCare Ballajura Early Learning Centre parent


Google Verified Review