MercyCare Heathridge Early Learning Centre
Walk through our doors and you'll at once feel the warmth and welcome. Our Heathridge Early Learning Centre really is a home away from home for little ones and we take pride in our cosy environment.
Our centre is more like a small community. Our long-standing staff, many of whom have been with us for years, have a wealth of experience between them. Our educators really get to know parents while caring for children and their siblings over several years and enjoy involving them in activities and special events.
The Heathridge Early Learning Centreis staffed by a consistent team of educators, ensuring that children feel safe and comfortable in their home away from home, particularly for children who are new to child care. Our highly qualified and experienced educational team provide a flexible, responsive and engaging learning environment tailored to each child's individual needs.
We value the environment, with a big focus on recycling and are always thinking about how our everyday activities impact on the world we live in. As part of MercyCare MiniChef, children of all ages work together to follow a different recipe each week, using ingredients from our very own veggie garden to create tasty food.
At MercyCare Heathridge child Care centre , children can enjoy climbing trees, running and exploring in our large natural play space. As an established centre, our grounds boast beautiful old shade trees and open grassed areas for children to fully immerse themselves into their play.
Features and Highlights
Having a park and primary school across the road, with public transport options nearby, gives parents a fantastic, convenient location, especially during pick-up and drop-offs.
Places for children from birth to 6 years (babies, toddlers and kindergarten)

Kindy program run by a qualified Early Childhood Teacher

Real-time communication with families

Daily, nutritious menu, featuring fresh produce grown at our centre

We work with families to meet special dietary requirements, routines, care requirements and additional needs.

MercyCare MiniChef

Eco Warriors program

Incursions and special events

Flexible child care (penalty-free casual and public holiday replacements days; money-saving 10-hour sessions, half days)
What our parents say about us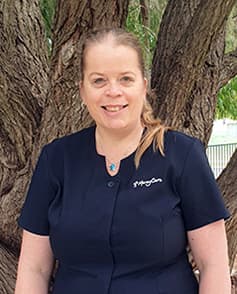 Manager
Gemma Gardiner
I have been a part of MercyCare's Heathridge family for the past nine years and I believe our centre is like a home away from home for the children and their families.
Living locally to the centre, I have built great connections with families over the years and love seeing the children grow and progress through their early years and it brings me joy to have the privilege of welcoming their younger siblings to our centre.
I strive to create a safe and nurturing environment where children can be inspired to grow, develop, create and share experiences with their peers and our educators.
Having developed a passion for working with children at a young age, and with 25 years industry experience, I feel privileged for each day I spend with children and families at our centre.
One of the best day care centres around! When I found out I was expecting number three I was so relieved that I didn't need to go looking for a day care centre all over again. Even though I was no longer living in the Heathridge area I still chose to put my baby here. It made going back to work so much easier knowing my baby was in such good care. He loves it here! I love it here! You will love it here too!
Jennie Greene
MercyCare Heathridge Early Learning Centre parent 


Google Verified Review
Before choosing a daycare for my 12-month-old son I visited lots of centres in the area and as soon as I walked into MercyCare I knew that would be the one he'd go to. The centre has such a warm and homely feel, I love that it is on the smaller scale as it means the staff really get to know the kids and the families and vice versa. It is clear that the staff really care about what they do and love the children in their care.
Sammy Sheldon
MercyCare Heathridge Early Learning Centre parent


Google Verified Review
For us MercyCare is not only an early learning centre but it's an extension of our family. We've been a part of this family since 2014 and both my children love it, (my son would like to go back if he could). They are very attentive, provide excellent learning and play facilities, and make sure our children are safe and cared for every single day.
Paula Hartmann
MercyCare Heathridge Early Learning Centre parent


Google Verified Review