MercyCare Kelmscott Early Learning Centre
Children and families at our Kelmscott Early Learning Centre play an active role in the broader community, with staff and educators going the extra mile to give children fun, creative and immersive experiences.
Through our programs, we enable children to build an understanding of themselves, their community and the world around them. This includes teaching them about environmental sustainability, recognising the unique role of Australia's First Peoples and celebrating the diversity of multicultural Australia.
We do this through a rich variety of experiences, which are fun, engaging and educational, building their confidence and independence as they grow, develop and find their space in the world. Our highly qualified and experienced educational team provide a flexible, responsive and engaging learning environment tailored to each child's individual needs.
Children learn to respect and care for their environment through recycling and a strong focus on environment sustainability at the Kelmscott Early Learning Centre. The children love our Pet Program, where they learn to care for and respect animals – whether they're helping to feed our chickens; sprinkling flakes into the fish tank for our goldies; or patting our friendly guinea pigs.
Regular excursions to the local library and community gardens encourage children to learn about and participate in their community. The children have regular clean-up days outside their child care centre on Ottaway St, their 'Adopt-a-Spot' location through Keep Australia Beautiful WA. These outings and new experiences help to build confidence and curiosity in children.
Summer 2021/22 Vacation Care
Our vacation care program at Kelmscott is open to children aged 4 to 12 and provides an array of fun, engaging activities, incursions and excursions during the school holidays.
From whipping up delicious recipes in our MiniChef cooking classes to taking part in our fun craft activities such as stain-glassed making, t-shirt tie dying and candle-making workshops, there's plenty of things to keep your kids entertained over the holidays.
Check out our upcoming school holiday program here.
Features and Highlights
The MercyCare Kelmscott Early Learning Centre has before and after school care partnerships with several local schools in the area, making drop-off and pick-up times easier for busy parents.
Places for children from birth to 6 years (babies, toddlers and kindergarten)

Kindy program run by a qualified Early Childhood Teacher

Before and after school care and our vacation care including excursions and incursions

Real-time communication with families

Daily, nutritious menu, featuring fresh produce grown at our centre

We work with families to meet special dietary requirements, routines, care requirements and additional needs.

Incursions and special events

Flexible child care (penalty-free casual and public holiday replacements days; money-saving 10-hour sessions, half days)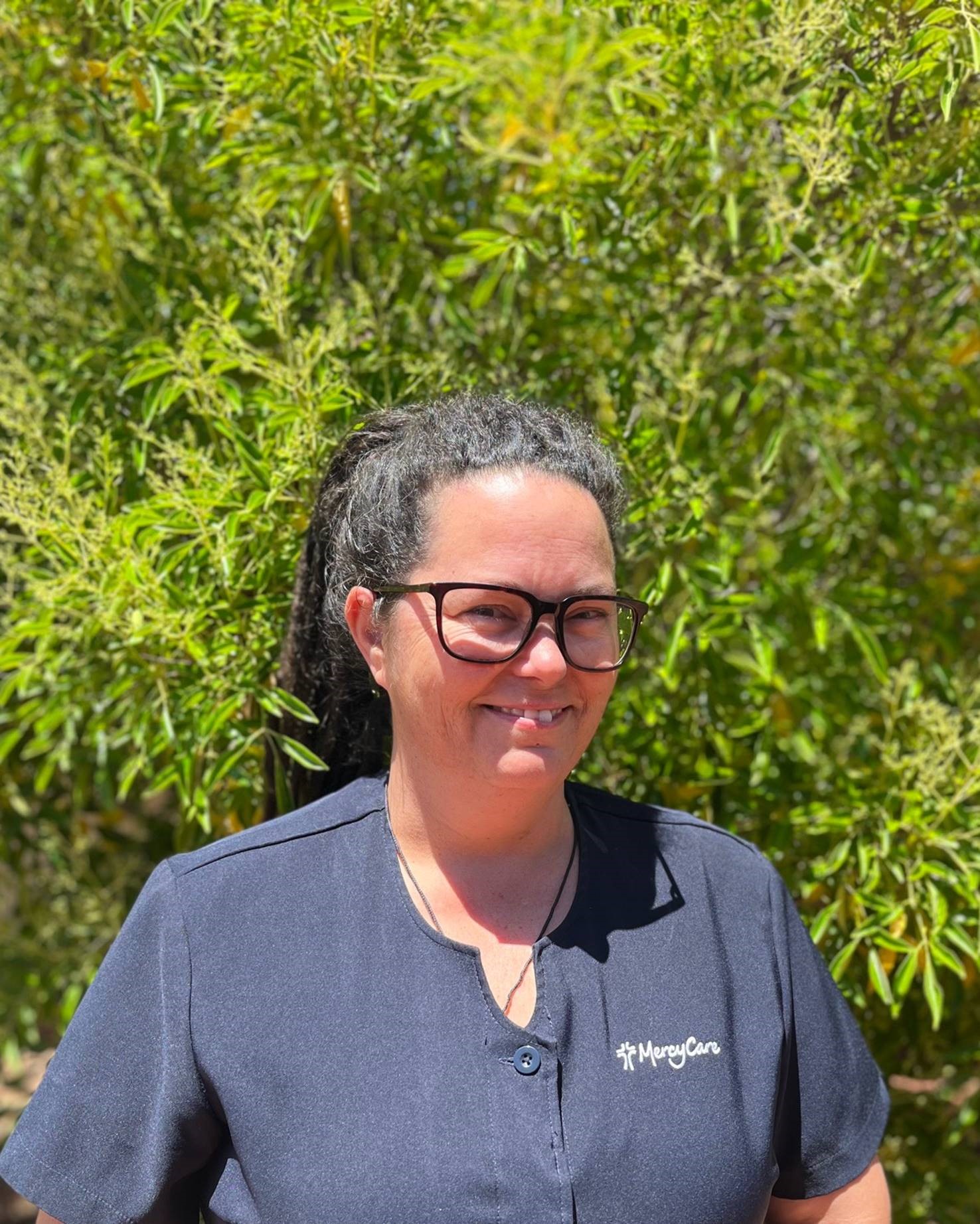 Centre Manager
Jana Adlam
Growing up around a big family, I've always found myself surrounded by children and young people, so for me it felt natural to pursue a career in early childhood I could not only have a positive impact on children's lives but also watch them grow into confident, happy little people.
My early learning career began some 16 years ago when I was in living in my homeland of New Zealand.
When I came to Australia in 2011, I picked up where I left off and continued to work in the childcare. I have been with the MercyCare family for nearly 10 years and have loved every minute of it.
Being away from New Zealand, MercyCare has made me feel welcome and part of the community.
My MercyCare colleagues and the children at our centre have been like my family away from New Zealand and I have met some beautiful people who have helped me become the best leader I can be.  
What I love most about my job is seeing the children grow and develop in both their confidence and knowledge into well rounded individuals through the care and support we provide.
What our parents say about us
The staff are amazing. At the beginning my daughter wouldn't walk in, I had to carry her but now she is excited to get there and always tells me "that's my daycare Mum". It has taken a while for me to find one she likes – but this is definitely the one!
Samantha Nash
MercyCare Kelmscott Early Learning Centre parent 


Google Verified Review
The past 3.5 years have been amazing with the team at MercyCare. In the baby's room the caregivers look after and out for our little one as if they were their own, keeping a close eye on their sleeping times and feeding patterns. As time ticked along and our child grew she was introduced to the toddlers room… staff helped our child develop toilet training, hygiene skills and development skills. Now in kindy room… she is learning so much and the educators are doing a great job.
Desire Hattingh
MercyCare Kelmscott Early Learning Centre parent 


Google Verified Review
Each of the educators offer something unique to the kids and care about their learning and interests. We couldn't be happier – and it makes the day-to-day routines so much easier for both the kids, and the parents! 
Kate M
MercyCare Kelmcott Early Learning Centre parent 


Google Verified Review
Thank you, thank you, thank you! Thank you to all the girls in the baby room, you have made the daunting feeling of leaving your child such a pleasant experience.
The loving updates throughout the day with her big smile gives me so much happiness to know I can get all my uni work done and not have the Mum guilt because I know she's in the best hands. I love the bond she has created with each-and-every one of you.
Sade
MercyCare Ballajura Early Learning Centre parent


Google Verified Review
I'd just like to say a big thank you to the centre. You know when a child is happy at his daycare when he asks on holidays if he can go back to daycare soon!
Preston also tells me he would like to invite all his teachers to his birthday party, you ladies are like family to him. Thank you for all your hard work, I know it's not easy some days, but you all put in so much effort and keep smiling no matter what.
Patricia Wood
MercyCare Ballajura Early Learning Centre parent


Google Verified Review
The baby room educators are always so welcoming, making the effort to put children at ease as soon as they arrive. They take on any update I provide regarding my child and incorporate it straight away into the work they do – which makes things much easier for his transition between daycare and home. Nothing is ever too much, they are all so willing to help.
Sandra Wybrant
MercyCare Ballajura Early Learning Centre parent


Google Verified Review