MercyCare Landsdale Early Learning Centre
Walk through our doors and you'll at once feel the warmth and welcome. Our Landsdale Early Learning Centre really is a home away from home for little ones with a cosy environment, nature-based learning and close relationships with families.
Many of our staff have worked at our Landsdale early Learning Centre for more than a decade. They've cared for siblings, cousins and over the years, have got to know families. They love nothing more than sharing their passion, dedication and knowledge to provide a nurturing and caring environment for the children. We pride ourselves on providing a safe and secure setting for children, where families feel valued for their uniqueness and are respected and involved. Our highly qualified and experienced educational team provide a flexible, responsive and engaging learning environment tailored to each child's individual needs.
Features and Highlights
With beautiful outdoor environments and mature trees, nature-play and environmental sustainability is definitely a focus at MercyCare Landsdale Early Learning Centre . Our weekly cooking program, MercyCare MiniChef, gives children the opportunity to create and learn a different recipe each week, to share with their friends or bring home and share with family. Featuring culturally rich dishes, Indigenous ingredients and produce from our own gardens, it is a fantastic way for children to learn maths, science, problem solving, healthy eating and sharing.
Places for children from birth to 6 years (babies, toddlers and kindergarten)

Kindy program run by a qualified Early Childhood Teacher

Real-time communication with families

Daily, nutritious menu, featuring fresh produce grown at our centre

We work with families to meet special dietary requirements, routines, care requirements and additional needs.

MercyCare MiniChef

Eco Warriors program

Incursions and special events

Flexible child care (penalty-free casual and public holiday replacements days; money-saving 10-hour sessions, half days)
What our parents say about us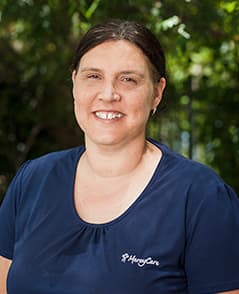 Manager
Tammy
After working with children for more than two decades I still get a buzz out of seeing the developmental journey little ones go through in their first few years.
It's a wonderful thing to be able to witness the growth of children as early learners and to be able to develop relationships with children, families and our community.
Being part of a close-knit team of educators makes work even more enjoyable and I love that we've also been able to build strong ties with the families that use our service.
I've been in the industry since 1998, when I completed my Diploma in Children's Services and am just as passionate about providing children with a happy, safe environment in order to see them thrive, as I was when I first started out.
My son has been at this day care centre since he was eight months old, he is now four and the women who have cared for him are like family to him. They are all so genuine and loving and have always adapted easily to our family's needs. Our daughter started there a few months ago in the babies room and we look forward to watching her grow up through the centre and gaining the same friendships and bonds are son has grown.
Claire Kavanagh
MercyCare Landsdale Early Learning Centre parent


Google Verified Review
My daughter has attended MercyCare Landsdale for the last year. I wouldn't send her anywhere else. The staff are welcoming and always ensure your child's needs are being met. They have a high level of care and communication through the Xplor app. Management always do their best to help you in any situation. Highly recommend these amazing ladies!
Alicia C
MercyCare Landsdale Early Learning Centre parent


Google Verified Review
My daughter is enrolled at the MercyCare Landsdale Centre. I can not recommend it highly enough. We first enrolled in 2017 when I was heading back to work after maternity leave. My daughter was only 6 months old and if it hadn't been for my first meetings with Tammy the centre director, I think I would of struggled to put her in care. Tammy is an asset to the company and I hope they know how truely blessed they are to have such an amazing centre manager. The staff are wonderful. It is a centre that has a big heart and I feel it's warmth and kindness every time I walk through the door. My daughter loves seeing all her friends, has a great relationship with all her carers, and most importantly the staff are really respectful and accommodating to all my needs as a parent. (No matter how insanely driven by my own emotions they may be). I do believe that is does indeed take a village to raise a child, and in the team at MercyCare Landsdale I believe we are part of a village that I never want to leave.
Lisa Cumalkovs
MercyCare Landsdale Early Learning Centre parent


Google Verified Review
A really special mention to Chanelle for her ability to handle Allie in the mornings at drop off. Of course we don't see everyone throughout the day, so I know everyone does just as amazing a job, but because we actually see Allie willingly go to Chanelle, it's truly comforting as she will only do that with a very small handful of family members.
Jess Bryne
MercyCare Landsdale Early Learning Centre parent


Google Verified Review
I just want to take the time to thank you, the centre and the wonderful women that work at MercyCare. You have been a wonderful source of support, not only for Ethan but for myself and my family also. As you know, and the girls know as well, it is so hard to leave your children with other people, but there is so much love and respect at your centre, you all care for the children like they are your own, it makes it easier somehow. I'm glad we still get to have contact with you and am grateful and confident to have Addie stay with you guys while I go back to work.
Karina Johnson
MercyCare Landsdale Early Learning Centre parent


Google Verified Review
I just want to say a massive thank you to yourself and the girls for always taking such great care of my kids. I can't believe the journey is over – it's been years and years. The centre is truly an asset to all families that walk through the door. Your staff staying for as long as they have is a true testimony to how you run a centre.
Elle Moult
MercyCare Landsdale Early Learning Centre parent


Google Verified Review