Merriwa Early Learning Centre
Nature-based play areas and learning activities encourage children at our Merriwa Early Learning Centre to explore, get creative with their play, challenge themselves and their limits.
We pride ourselves on providing a safe and secure setting for children, where families feel valued for their uniqueness and are respected and involved. Our highly qualified and experienced educational team provide a flexible, responsive and engaging learning environment tailored to each child's individual needs.
Children of all ages have access to beautifully designed outdoor play areas boasting natural elements of wood, grass and trees. These spaces in our Merriwa child care centre were designed to engage children, and all their senses, in creative play.
Through our programs we enable children to build an understanding of themselves, their community and the world around them. This includes teaching them about environmental sustainability, recognising the unique role of Australia's First Peoples and celebrating multicultural Australia.
We want to support our families and those throughout the community through hosting workshops through the year, including First Aid, parenting workshops and our free Bubs Playgroup so parents can connect with each other.
Features and Highlights
At MercyCare Merriwa Early Learning Centre, we also offer an extensive and stimulating vacation care program, with a dedicated room and outdoor space for school-aged children.
Places for children from birth to 6 years (babies, toddlers and kindergarten)

Kindy program run by a qualified Early Childhood Teacher

Before and after school care and our vacation care including excursions and incursions

Real-time communication with families

Daily, nutritious menu

We work with families to meet special dietary requirements, routines, care requirements and additional needs.

Special programs, including MercyCare MiniChef and Eco Warriors

Incursions, excursions and special events

Flexible child care (penalty-free casual and public holiday replacements days; money-saving 10-hour sessions, half days)
What our parents say about us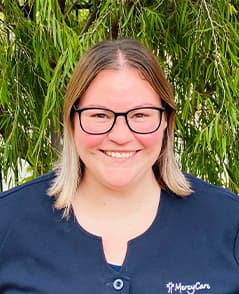 Manager
Catherine
I love children and enjoy watching them grow and learn every day. 
Helping them to become confident little people and learners is one of the main reasons I chose this career.
Working in the early years sector allows me to get to know our future generations and help them learn and achieve their goals.
As Centre Manager and an educator, I am passionate about creating a holistic environment for children and giving them the tools and opportunities to reach their potential while having fun.
I achieved my diploma in early childhood education and care in Ireland and have worked in the sector for about 12 years in Ireland and Australia.
When I first started at MercyCare Merriwa Early Learning Centre I was openly welcomed. It instantly felt like home; the children, families and staff were so welcoming.
It's a close-knit centre that has amazing relationships with the families that attend.
I love the way we open our doors to the local community through activities like our Bubs Playgroup.
Beautiful centre, friendly, supportive and consistent staff in the rooms. They are genuine and listen to every detail about my child and what he needs and nothing is ever too hard.
Melanie Tutton
MercyCare Merriwa Early Learning Centre parent 


Google Verified Review
MercyCare Merriwa is an amazing early learning centre! I viewed a few day cares for my three year old and went with my gut and chose MercyCare. The centre itself has a very small close-knit team, is exceptionally clean with great facilities for the children and has a calm and positive feel from the moment you walk in. One of my favourite parts of the centre is their Xplor app, where I get continuous daily updates on my sons eating/napping/activities as well as photos and videos. I LOVE it!! I'm so happy I get to see him enjoying his day whilst I'm at work.
Amie Connor
MercyCare Merriwa Early Learning Centre parent 


Google Verified Review
All of the staff are extremely friendly and caring. We are so happy and feel reassured knowing our children are in excellent hands.
Victoria Dolting
MercyCare Merriwa Early Learning Centre parent


Google Verified Review
Thank you, thank you, thank you! Thank you to all the girls in the baby room, you have made the daunting feeling of leaving your child such a pleasant experience.
The loving updates throughout the day with her big smile gives me so much happiness to know I can get all my uni work done and not have the Mum guilt because I know she's in the best hands. I love the bond she has created with each-and-every one of you.
Sade
MercyCare Ballajura Early Learning Centre parent


Google Verified Review
I'd just like to say a big thank you to the centre. You know when a child is happy at his daycare when he asks on holidays if he can go back to daycare soon!
Preston also tells me he would like to invite all his teachers to his birthday party, you ladies are like family to him. Thank you for all your hard work, I know it's not easy some days, but you all put in so much effort and keep smiling no matter what.
Patricia Wood
MercyCare Ballajura Early Learning Centre parent


Google Verified Review
The baby room educators are always so welcoming, making the effort to put children at ease as soon as they arrive. They take on any update I provide regarding my child and incorporate it straight away into the work they do – which makes things much easier for his transition between daycare and home. Nothing is ever too much, they are all so willing to help.
Sandra Wybrant
MercyCare Ballajura Early Learning Centre parent


Google Verified Review