MercyCare Seville Grove Early Learning Centre
Over its 11-year history, our Seville Grove Early Learning Centre has established itself as a vibrant part of the local community and is known as a home away from home for children.
From the moment you walk in our Seville Grove child care centre feels like home with a warmth and friendliness. Many of our long-term staff have been with us for more than a decade and are experienced with a wealth of knowledge and enthusiasm.
At MercyCare Seville Grove Early Learning Centre, we pride ourselves on providing a safe and secure setting for children, where families feel valued for their uniqueness and are respected and involved. Our highly qualified and experienced educational team provide a flexible, responsive and engaging learning environment tailored to each child's individual needs.
Parents have the option of reserving half-day sessions, which can go a long way in helping little ones settle into a child care environment.
Features and Highlights
Our weekly cooking program, MercyCare MiniChef, gives children the opportunity to create and learn a different recipe to share with their friends or bring home and share with family. Featuring culturally rich dishes, Indigenous ingredients and produce from our own gardens, it is a fantastic way for children to learn maths, science, problem solving, healthy eating and sharing.
Places for children from birth to 6 years (babies, toddlers and kindergarten)

Kindy program run by a qualified Early Childhood Teacher

Real-time communication with families

Daily, nutritious menu, featuring fresh produce grown at our centre

We work with families to meet special dietary requirements, routines, care requirements and additional needs.

MercyCare MiniChef

Eco Warriors program

Incursions and special events

Flexible child care (penalty-free casual and public holiday replacements days; money-saving 10-hour sessions, half days)
What our parents say about us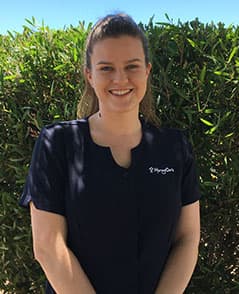 Manager
Brittany
There is nothing better than watching a child reach their goals creating those absolute 'wow' moments. I love working with children. It's been my passion ever since I was small.
When I moved to Perth in 2015 I pursued that passion by joining the MercyCare Early Learning family at our Bedford Centre as a casual educator. I was then promoted to MercyCare's Bassendean Early Learning Centre as room leader before stepping up to the 2IC role.
I hold a Certificate 3 and Diploma in Children's Services and am currently completing my Bachelor in Early Childhood and Primary studies.
Being part of a community is something I hold closely, so I am excited to get to meet and get to know the children and their families at Seville Grove Early Learning Centre.
My daughter has been going to Seville Grove MercyCare for over a year now and she absolutely loves it! It's always easy to drop her off but difficult to bring her home! My daughter loves going and playing and learning with her friends! The girls are a wonderful team and are so loving with my babies which makes it so much easier to leave them while I go to work!
Jayde Black
MercyCare Seville Grove Early Learning Centre parent 


Google Verified Review
The girls are fantastic, very kind, helpful and nurturing. What the twins have learnt there from them has been amazing. We are very happy with MercyCare and whole heartedly recommend the place.
Deirdre Gill
MercyCare Seville Grove Early Learning Centre parent 


Google Verified Review
From the first time I stepped into the doors I have felt welcomed, comfortable and confident in my decision to enrol my daughter. My toddler is a full time student and I can 100% say that her growth and development wouldn't be where it is without the amazing staff and MercyCare.
Samantha Alexander
MercyCare Seville Grove Early Learning Centre parent 


Google Verified Review