MercyCare Thornlie Early Learning Centre
Being outside, learning and playing in their natural surroundings, is what children love about our Thornlie Early Learning Centre.
Our spacious outdoor play area is large enough for children to run, hide, explore and enjoy themselves. It's the perfect environment for active children to develop their motor skills, use their imaginations and develop relationships.
Our focus is on ensuring children feel safe and secure so they can build positive relationships with their educators and friends. While we have three separate rooms to provide different age groups their own space, we do a lot of mixed age play as the children enjoy sharing their experiences with one another, creating relationships and scaffolding each other's learning.
At MercyCare Thornlie early Learning Centre, our highly qualified educational team provide a flexible, responsive and engaging learning environment tailored to each child's individual needs. Families at our child care centre often say they feel like they're part of an extended family thanks to our long-standing and experienced educators who have created special bonds with the children, families and the local community. We reflect our local community through learning about and celebrating diverse cultures, including recognising the unique role of Australia's First Peoples and championing multicultural Australia.
Features and Highlights
In our Thornlie Early Learning Centre, our outstanding environmental sustainability program means children are given the opportunity to learn about the importance of recycling, waste reduction and caring for our environment. Our vegetable garden, fruit trees and much-loved pet chickens connect the children to the natural world around them.
Places for children from birth to 6 years (babies, toddlers and kindergarten)

Kindy program run by a qualified Early Childhood Teacher

Real-time communication with families

Daily, nutritious menu, featuring fresh produce grown at our centre

We work with families to meet special dietary requirements, routines, care requirements and additional needs.

MercyCare MiniChef

Eco Warriors program

Incursions and special events

Flexible child care (penalty-free casual and public holiday replacements days; money-saving 10-hour sessions, half days)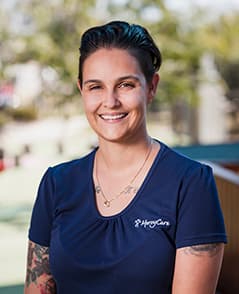 Manager
Leah
Having been at this centre since it opened in 2009, I've been able to see families grow, children move onto school and sometimes see them return with younger siblings several years later.
I feel lucky to be in the job I am in, as I love seeing children reach their milestones and develop relationships with their peers.
Being part of a tight-knit team also makes my job enjoyable. I love being able to work alongside other amazing educators and see us all learn from each other and inspire each other.
After weeks of researching and interviews of all the day care centres and homes in our area, MercyCare Thornlie was the only one that ticked all of our boxes! One and a half years later and everyone is still as happy and professional as our very first visit, and our daughter still waits eagerly to see all of her educators every morning. The team have made it so easy for us to get on with our work lives knowing our daughter is safe, happy and learning lots to show off to us every night.
Marisa Tucker
MercyCare Thornlie Early Learning Centre parent 


Google Verified Review
My son has been attending for two years now and has flourished emotional and socially. He has just started kindy at school and I feel he's doing so well with the transition due to the care and support from his carers at MercyCare who have made being school ready fun and exciting. The icing on the cake is we as parents support a non-for-profit organisation. I couldn't be more grateful to have found this centre.
Kyla Steane
MercyCare Thornlie Early Learning Centre parent 


Google Verified Review