MercyCare Wembley Early Learning Centre
Heritage buildings and expansive grassed play areas sit high on the hill overlooking Lake Monger at our beautiful Wembley Early Learning Centre.
It's not often a child care centre can offer so much space to run, explore and play. Three playgrounds, mature shady trees, large rooms and sweeping verandas create a beautiful environment for play and learning.
At MercyCare Wembley Early Learning Centre , many of our educators have been with us for years, some decades even, creating special bonds with children and families. We pride ourselves on providing a safe and secure setting for children, where families feel valued for their uniqueness and are respected and involved. Our highly qualified and experienced educational team provide a flexible, responsive and engaging learning environment tailored to each child's individual needs.
Extensive grounds mean thriving gardens at our Wembley child care centre. Children learn about healthy eating and where their food comes from with our vegetable patches and chicken coop. We love creating a community around our gardens, where we share fresh produce with families, as well as a book exchange and recycle hub. It is also an important part of our outstanding environmental sustainability program, where children learn about the importance of recycling, waste reduction and caring for our environment.
Features and Highlights
In addition to our nutritious daily menu, our MercyCare MiniChef program gives children the opportunity to create and learn a different recipe to share with their friends or bring home to share. Featuring culturally-rich dishes, Indigenous recipes and produce from our gardens, it is a fantastic way for children to learn maths, science, problem solving, healthy eating and sharing.
Places for children from birth to 6 years (babies, toddlers and kindergarten)

Kindy program run by a qualified Early Childhood Teacher

Before, after and vacation care is offered through our sister-centre at Newman College

Real-time communication with families

Daily, nutritious menu, featuring fresh produce grown at our centre

We work with families to meet special dietary requirements, routines, care requirements and additional needs

MercyCare MiniChef and Eco Warriors program

Incursions and special events

Flexible child care (penalty-free casual and public holiday replacements days; money-saving 10-hour sessions, half days)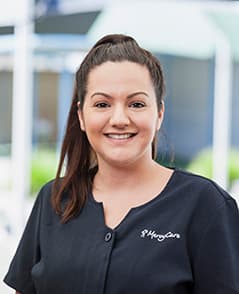 Manager
Lisa
I enjoy creating an environment and atmosphere that reflects MercyCare's values and ensures the children feel as safe and secure as possible.
I love seeing how, as educators, we can make such a positive impact on the future of children, making foundations and memories for them to keep forever.
Sharing my passion with other educators is very rewarding. I love that our team at the centre is like one big family.
The families and educators have built strong and trusting relationships and there are always a lot of happy and smiling faces around.
What our parents say about us
Carers have been there for a number of years and are very maternal. I've had two children through the centre and both formed very special relationships with carers. A real sense of community and working in partnership.
Blanche Foy
MercyCare Wembley Early Learning Centre parent 


Google Verified Review
The staff are exceptional and always go the extra mile with the children in their care. My son loves going to daycare and even on his very first days the staff were amazing in the transition and helped it all go so smoothly. I feel very lucky to have my son is such a capable and caring educational facility.
Mary O'Callaghan
MercyCare Wembley Early Learning Centre parent 


Google Verified Review
Both of our daughters currently attend MercyCare Wembley. The Educators are loving, kind-hearted and provide care and education that is second to none. Our children are so happy to go to day care and the facilities and incursions offered at MercyCare make it a very special fun place for them where they have made lots of friends and feel completely safe and secure. Highly recommend!
Helen McQuade
MercyCare Wembley Early Learning Centre parent 


Google Verified Review
Fantastic facilities, lots of green, open spaces for the children to play. The educators are the kindest, most caring and genuine people. We could not ask for a better centre to care for our children!
Jacqui Whitehouse
MercyCare Wembley Early Learning Centre parent 


Google Verified Review
We have sent our 2 eldest children to Wembley MercyCare since 2015 and will soon send our 3rd child too. We have recommended the centre to many friends as our children have always been so well-cared-for and stimulated with interesting and educational activities. We really appreciate the continuity of staff and the sense of community and connection in this caring environment. The large natural play spaces are also a big draw card. Highly recommend.
Ainsley
MercyCare Wembley Early Learning Centre parent


Google Verified Review