As a support advisor, Neroli works closely with MercyCare Home Care clients and their families to develop a support plan that enables them to live independently at home.
"Every day is different for me as a support advisor, I would say it's very pivotal to many roles at MercyCare," said Neroli, who has more than three decades of experience working in Aged Care sector.
"I work with consumers to design a life that they want to have at home and the supports and services to help support that.
"I speak with lots of other key stakeholders around the consumer, so people from allied health staff to clinical staff, just to get that holistic view of somebody."
A key part of Neroli's role as a support advisor is to get to the core of who a person is before developing their support plan.
"Getting to know what really makes somebody tick is probably a primary thing I do. I try in different ways to get to know that person and find out what is going to give them a lease in life," she said.
Neroli recently uncovered the inner passions of 72-year-old Stew Cameron, who currently receives home care support from MercyCare.
Stew had two strokes five years ago, which led him to undergo 15 operations.
As a result, he was unable to speak, walk or undertake simple tasks, which led him and wife to turn to MercyCare to provide home care support.
"It took a while to find it, but we found the treasure and that's what's made his support so successful," Neroli explained.
"We were having a conversation about what he had done in his life before (needing support) and it came up that he was starting to write a book.
"Then we started to talk about what that could look like and what support workers I could match up with him that would have similar interests."
Neroli paired him up with MercyCare support worker Mark Spivey, who shared an interest in writing.
"Part of my role is to get to know support workers as well so that I'm able to match them with clients," she said.
"So that's how Mark (Spivey) came about because he had a background in media and writing and I thought he'd be really great with Stew to help him explore some things.
"Then Stew's wife said to me, 'bingo, we've done it.' She said he wanted more support and he's happy for her to go do her teaching for piano, and that he wants to cook dinner now, and it kind of rolled on from there. He's got that fervour for life back."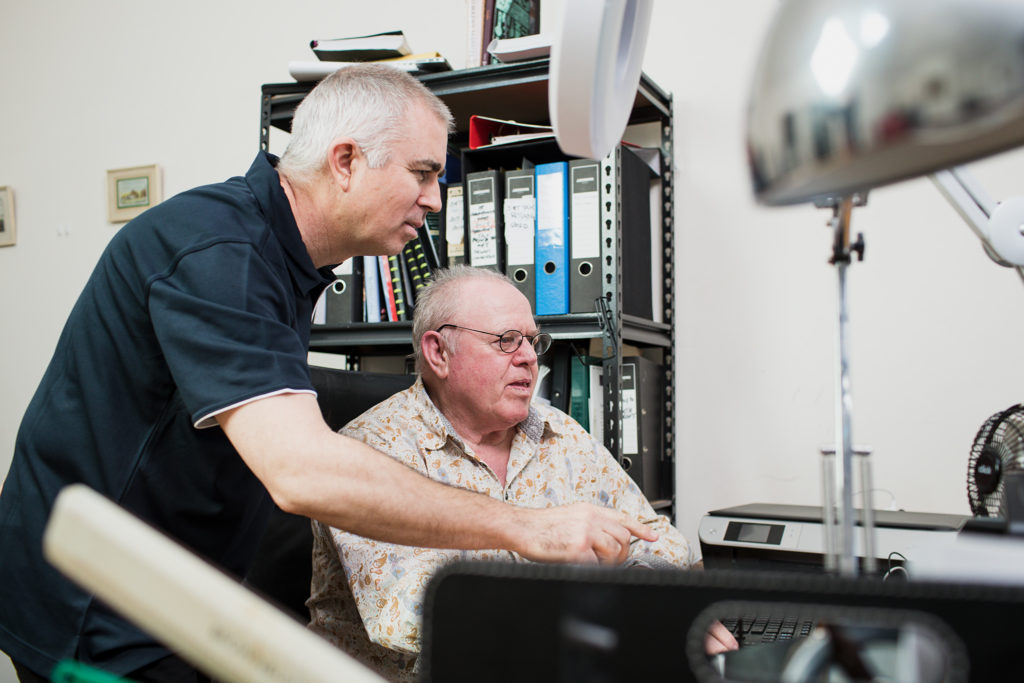 For Neroli, it's success stories like Stew's that make her job so rewarding.
"I feel like I'm in a really privileged role, because I feel like it's pivotal to many roles within MercyCare and I can help highlight some of those roles and skills," she said.
"I think trying to see somebody aside from the condition that they've got, trying to explore who Stew really is — he's not his stroke, he's not his disability, he is a man and he has an amazing story to tell."
Neroli added that she is driven by MercyCare's person-centred philosophy in her job every day.
"One of the great things about working for MercyCare is that we do take that person-centred approach and we do look at each client as a whole person," she said.
"We follow each person's journey and we're very flexible to adapting to changing circumstances. Sometimes it will move from not being able to do something to being re-abled to do something, and that's very positive as well."
To read more about MercyCare's career opportunities, click here.