2021 Australian of the Year Grace Tame delivered an incredibly moving story and question and answer session on stage. Grace's passionate advocacy work for survivors of sexual assault has also helped educate people about child sexual abuse and the nuances to the behaviours perpetrators demonstrate.
As an accredited Safeguarding Children and Young People organisation, at MercyCare it's important that safeguarding remains a focus for every person across the organisation.
Continuing the powerful storytelling, three MercyCare staff stepped up on stage to share their own personal stories. Their candid experiences showed how every person has an important and unique story to tell.
The different stories each person bring to work each day helps shape the amazing workplace that is MercyCare.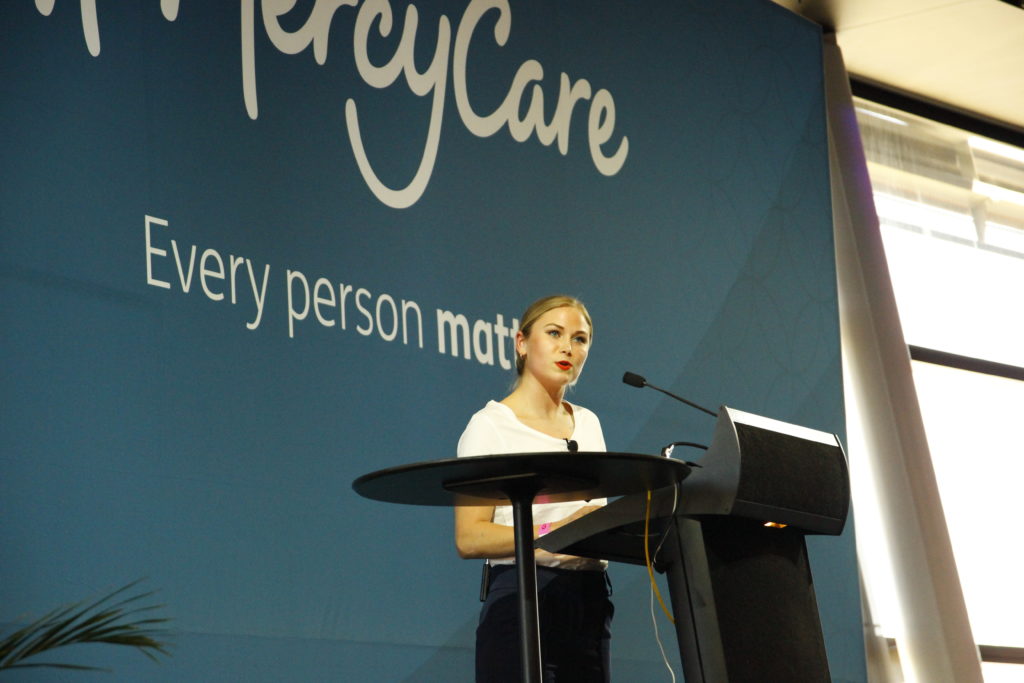 During the event, the incredible artwork by Vanessa Liedenberg was unveiled, celebrating 175 years since the Sisters of Mercy arrived in Western Australia. Drawing from historical photographs, Vanessa created a unique piece using different mediums such as wood burning, drawing and painting which feature depictions of both the Sisters of Mercy and elements of what MercyCare is today.
Team spirit was alive and well at Optus Stadium as staff from across the organisation proudly wore their custom-designed team t-shirts. The best team t-shirt competition, judged by our MC on the day, Peter Rowsthorn, was won by our Early Learning Centres with their individual quotes from different children printed on the back of their shirts.
The day ended with Staff and Volunteer Excellence Awards and a Sundowner overlooking Optus Stadium oval.