A place is only as good as the people you know in it. It's the people that make the place. There couldn't be truer words for MercyCare Joondalup Residential Aged Care Home.
At MercyCare Joondalup, it's the staff that make the difference. Many of our staff have been with us for years and know the importance of working in partnership with you and your family to ensure personalised care.
MercyCare Joondalup is built on a sense of home where you can feel comfortable.
Our large single rooms each have their own private ensuite. You can freely access the communal areas across two levels, or the atrium off the dining space or courtyards. Reading and socialising nooks looking outdoors are dotted throughout the home.
Joondalup Aged Care Facilities and Services
You can choose to enjoy regular outings, whether it's a scenic coastal drive or picnic in the park. Our dedicated volunteers regularly visit offering companionship and activities.
Features and Highlights
105 rooms with private ensuite

Several double rooms available for couples

24/7 Nursing

Physiotherapy and occupational therapy

GP and specialist services

Lifestyle and Therapy program with one-on-one or group activities

Regular social outings

Spiritual care

Palliative care

Dietitian-approved, seasonally-driven changing menus

Onsite Hairdresser

Cleaning and onsite laundry services
Costs and Fees
Choosing a residential aged care home is a big decision, and it is important to understand the costs and fees associated with care. You can learn more about Cost and Fees here. Our local, friendly team are here to guide you through fees, charges, funding and any other questions you have at any time through your aged care journey.
Room type
Room price
Choose from three forms of payment options
Option 1
Maximum Refundable Accommodation Deposit (RAD)
Option 2
Maximum Daily Accommodation Payment (DAP)
Option 3
Combination payment of refundable deposit and daily payment.
For example
RAD
50%
DAP
50%
Downstairs Deluxe room
Single room with ensuite
$420,000
$420,000
$57.53
$210,000
$28.76
Downstairs Premier room
Single room with ensuite
Garden view
$480,000
$480,000
$65.75
$240,000
$32.87
Upstairs Deluxe room
Single room with ensuite
$400,000
$400,000
$54.79
$200,000

$27.39

Upstairs Premier room
Single room with ensuite
North facing or city view
$480,000
$480,000
$65.75
$240,000
$32.87
Shared room
$350,000
$350,000
$47.94
$175,000
$23.97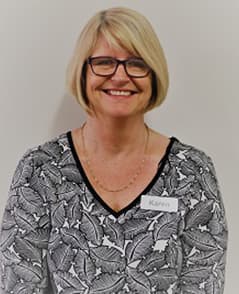 Service Manager
Karen Lyon
I began my nursing career in the UK and knew instantly from my first job caring for elderly patients that I wanted to work in aged care health.
I first joined MercyCare Joondalup as Clinical Nurse Manager in 2019.
In my role as Service Manager, I am responsible for ensuring everything runs smoothly.
Bringing staff together and listening to the needs of residents and their families to deliver an excellent care experience is what I enjoy about my work. 
I am committed to supporting residents to live life their way, in keeping with our person-centred approach to care.
A warm welcome from the team